Opening Thursday, Nov. 9, 5-7 pm!
Mies | Weese at Drake: Where We Live and Work
An exhibition exploring Iowa connections to renowned modernist architects
Anderson Gallery, Drake University
November 9 – December 22, 2017
Free and open to the public \ RSVP on Facebook (optional)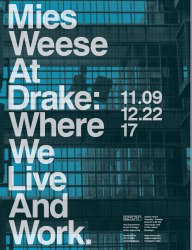 An exhibition at Drake University's Anderson Gallery reveals the Iowa connections to three pioneering minds in modernist architecture. Mies | Weese at Drake: Where We Live and Work features previously unseen work by renowned architects Ludwig Mies van der Rohe, Harry Weese, and Ben Weese, who collectively designed five buildings on Drake's campus.
The exhibit, which runs Nov. 9 through Dec. 22, contrasts the architects' visions for their buildings with the memories and traditions of those who have inhabited them.
"During the 1960s and 1970s, many U.S. colleges and universities redefined their educational missions through long-term planning and building campaigns," said Maura Lyons, exhibition curator and professor of art history at Drake University. "Drake's approach was distinct because the university renewed its commitment to modernist architecture, begun two decades earlier with the construction of multiple buildings designed by Eliel and Eero Saarinen. This exhibition provides an unprecedented look at the legacy of Mies and Weese on Drake's campus."
Free public events associated with the exhibition include a gallery opening with remarks from the curators on Nov. 9; a panel discussion on current building projects at private colleges and universities in Iowa on Nov. 11; and lectures on the work of Harry and Ben Weese and Mies van der Rohe on Nov. 16 and Dec. 7, respectively.
The exhibition is the result of a collaboration between Lyons and Drake students enrolled in a curating course. Students are involved in all aspects of the exhibition including selection, research, writing, design, installation, and public outreach.
Mies & Weese on Drake's campus
Mies van der Rohe, whose most famous work includes the Seagram Building in New York, the Chicago Federal Center, and the Neue National Gallery in Berlin, designed Meredith Hall (1965), which is home to Drake's School of Journalism and Mass Communication.
Best known for their work on the Washington Metro system, the Time-Life Building in Chicago, and the U.S. embassy in Ghana, the Weese brothers designed five buildings at Drake University. Harry Weese designed Goodwin-Kirk and Ross residence halls (1962); his brother, Ben Weese, designed the Harmon Fine Arts Center (1972) and Olmsted Center (1974).
The display includes never-before exhibited plans and drawings selected from archives of the Chicago History Museum, Art Institute of Chicago, Mies van der Rohe Archive at the Museum of Modern Art, and Drake University.
One of the exhibit's centerpieces is a large-scale model of Drake's campus, completed by Mies' office in the 1960s to showcase the architect's vision for Meredith Hall. The detailed wooden model was recently found in a dark corner of the attic of Sheslow Auditorium—buried in dust, forgotten for decades, but luckily protected by a glass case.
"We actually didn't know what it was until we got it out of the attic," Lyons said. "It's very heavy, and our facilities team had to lift it over a structural beam that had been placed in its path at some point during the decades that it was up there."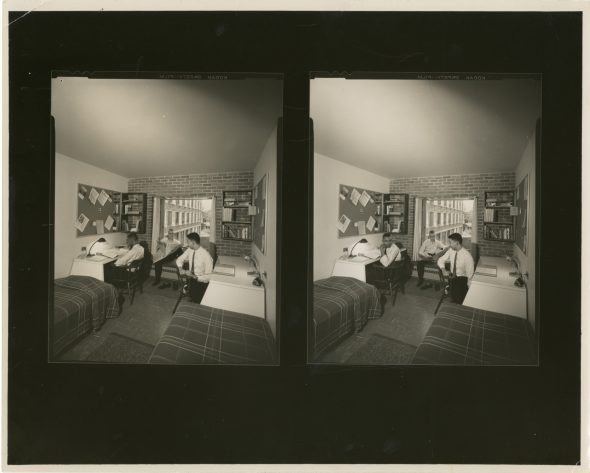 Bulldogs put their stamp on the Mies and Weese legacy
Great architects have a vision for the way their buildings will be used. The people who live, work, and play in them often have other ideas.
For example: Mies van der Rohe may have designed Meredith Hall's wide hallways to accommodate foot traffic, but it also created an ideal environment for a former Times-Delphic student newspaper editor to pull her friends around in a red wagon.
Harry Weese probably never imagined that students would use Goodwin-Kirk's utilitarian rows of residence hall doors for a unique "musical prank": slamming each door, one after another in succession, to create a wave of sound that raised unsuspecting undergrads from their slumber.
The Mies | Weese exhibition uses photographs, video footage, and letters from Drake alumni to contrast the architects' visions with its inhabitants' memories and traditions.
"Great architecture is defined not only by those elements envisioned by the architects, but also by the ways in which people alter those spaces to make them their own," said curator Maura Lyons. "A buildings meaning is shaped by sounds and smells, by behavior that shapes the physical and emotional features of the space—in short, by the humans who inhabit them."
Free events provide in-depth insight
The Anderson Gallery has scheduled several programs that are free and open to the public in conjunction with the exhibition:
Thursday, Nov. 9: Exhibition opening. 5 to 7 p.m., with gallery talk by the curators at 6 p.m. Anderson Gallery
Saturday, Nov. 11: Panel discussion about current building projects at private colleges and universities in Iowa, with representatives from Drake, Cornell College, Grand View University, and Grinnell College. 10 a.m. to noon, Turner Jazz Center
Thursday, Nov. 16: Lecture on Harry & Ben Weese and Eero Saarinen by Robert Bruegmann, professor emeritus, University of Illinois at Chicago. 7 p.m., Harmon Fine Arts Center, room 336
Thursday, December 7: Lecture on Mies van der Rohe by his grandson, Dirk Lohan, principal at Wight & Company. 7 p.m., Meredith Hall room 106
About the exhibit
The exhibition is supported by a major grant from Humanities Iowa, a state-based affiliate of the National Endowment for the Humanities, and by an art project grant from the Iowa Arts Council, a division of the Iowa Department of Cultural Affairs, and the National Endowment for the Arts. Additional funding has been provided by Friends of Drake Arts and from the Office of the Provost and College of Arts and Sciences at Drake University.
Follow the exhibition on Instagram: @DrakeUniversityArchitecture.
About the Anderson Gallery
The Anderson Gallery, a non-profit exhibition space on the campus of Drake University in Des Moines, was founded in 1996 to exhibit and support innovation in art and design. Part laboratory, part showcase, the Gallery's main goal is to promote the growth and understanding of art through exhibitions, programs, and publications.
The Anderson Gallery is open Tuesdays, Wednesdays, and Friday through Sunday, 12 p.m. to 4 p.m.; and extended hours on Thursdays from 12 p.m. to 8 p.m. The gallery is closed on Mondays and during University holidays. 
The Anderson Gallery is located within the Harmon Fine Arts Center at 1310 25th Street, at the corner of Carpenter and 25th. For more information, contact the gallery at 515-271-1994 or visit https://theandersongallery.wordpress.com.