2023-2024 Season
Freehand: Drawings and Prints by Judy Pfaff
Sept 7-Oct 15, 2023
The Anderson Gallery is pleased to show the work of Judy Pfaff, an internationally recognized artist who is often cited as a pioneer of installation-art and contributor to the Pattern and Decoration Movement. The solo exhibition showcases over 50 drawings and prints. Freehand is supported by a grant from the Iowa Arts Council.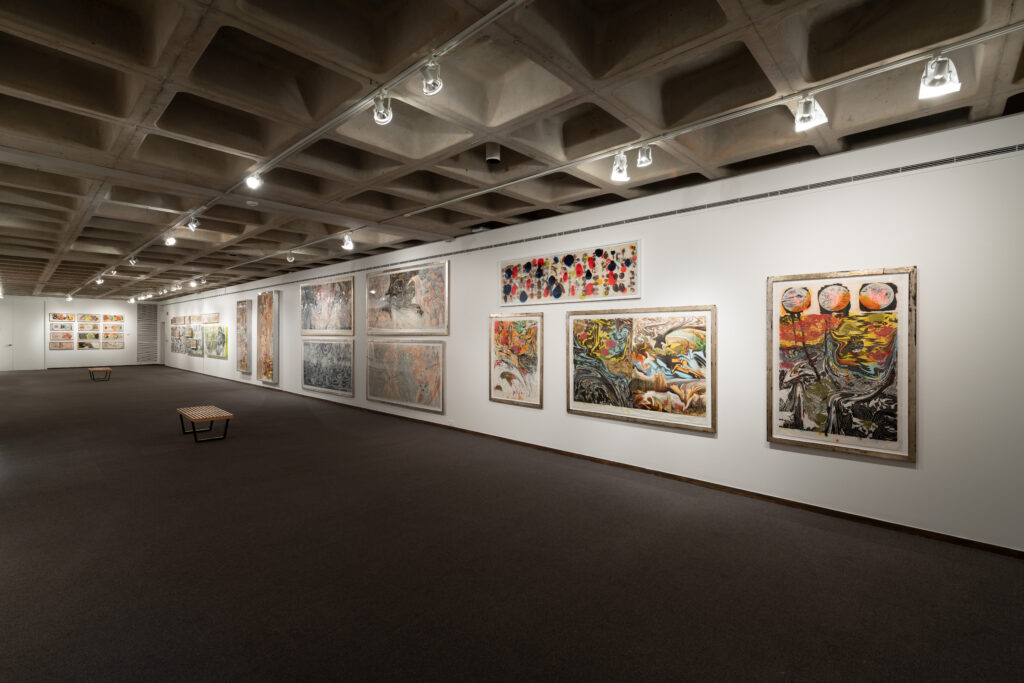 Installation view of Freehand. Photograph by Rich Sanders.
2022-2023 Season
The Ecclective
April 13- May 13, 2023
A Senior Thesis Show of Matt Butler, Micah Ferin, Anh Nguyen, Nicole Prancik and Chloe Safley
52nd Annual Juried Student Exhibition
March 5-April 2, 2023
This year's Juror is Mia Laufer, Associate Curator at the Des Moines Art Center.
A Thin But Powerful Difference: Race | Embodiment
Curated by Dr. Lenore Metrick-Chen and the students of the Race & Art Curating Seminar
November 10, 2022-February 17, 2023
Through twelve extraordinary artworks, accompanied by rare historical artifacts, this exhibition confronts and explores issues of race and embodiment in our nation, focusing on Iowa and Iowa's racial history.
Vibrant Expressions: Work by Andrew Casto, Gyan Shrosbree, James Shrosbree, Aaron Tinder and Susan Chrysler White
Curated by Lilah Anderson
September 8, 2022 – October 14, 2022
Opening Reception: September 8, 5-7 p.m. 
Vibrant Expressions is an exhibition that explores and celebrates color and materiality. Featuring artists working across the state of Iowa, the exhibition asks you to suspend your concern over what an artwork is about and instead that you dwell in the joy of all the possibilities.
Watch the panel discussion here.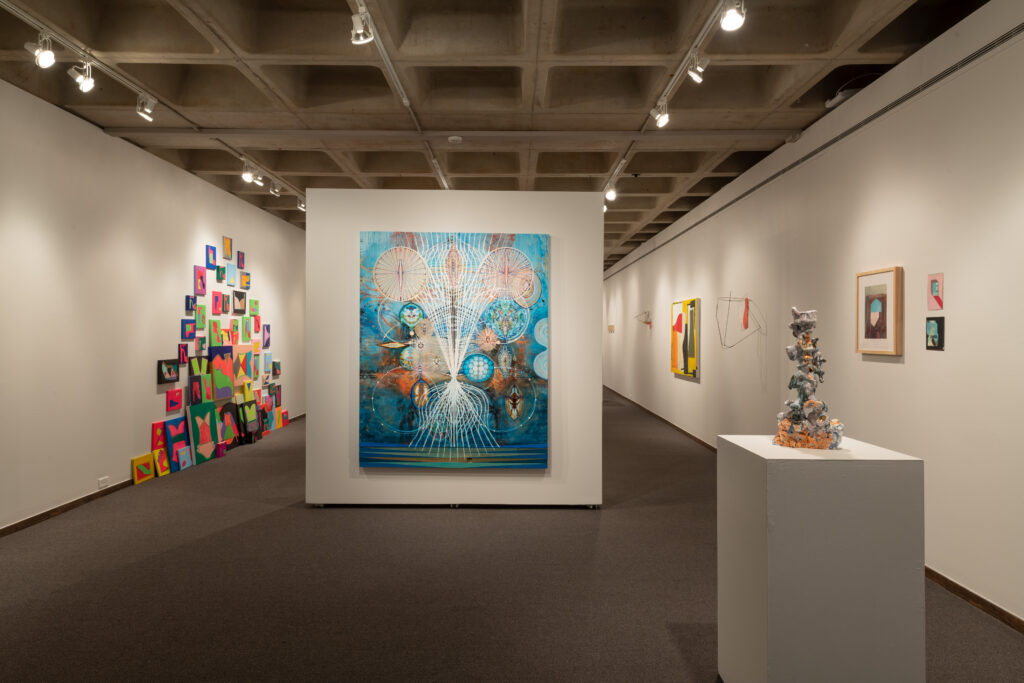 2021 – 2022 Season
Loom • Room • Harp
September 2 – October 15, 2021

is an installation that weaves together inside and outside, near and far, visible and invisible, artifacts of the past and actions in the present, through the space of the Anderson Gallery. This site-specific installation and series of performances taking place periodically from September 2 through October 15, 2021, is a collaboration between Fırat Erdim, Paula Matthusen, and Olivia Valentine.
The performances are accessible both in-person and online, via the loom-room-harp.space website and Sunship, the website of the Arts Letters & Numbers 2021 Venice Architecture Biennale Italian Virtual Pavilion at artslettersandnumbers.org. The performance schedule is available on these websites.
Throughout the course of the exhibition, the gallery contains dynamic visual and audio artifacts of the periodic performances. Together, these artifacts, performances, and other components of the installation seek to permeate interior with exterior, here with there, now with then.
Opening Reception: Thursday, September 2 from 5-7pm
Sean Downey: Two-Hundred Percent of Life
February 3 – March 11, 2022
Work-life and home-life; digital identity and analog existence; outer actions and inner experience—Sean Downey's work explores the sometimes beautiful, sometimes manic, myriad ways that our various double-existences overlap and become convoluted. Downey builds digital worlds in virtual reality that are sourced from the physical world, and then spins these digital environments into visual sources for handmade paintings and sculptures. The work in Two-Hundred Percent of Life uses juxtaposing and overlapping images of interiors, exteriors, home, office, and studio as a visual metaphor for the confusion of thoughts, memories, anxieties, and daily encounters that seem to have become increasingly intermingled in recent years. "Two-hundred percent of life" acts simultaneously as an aspiration and an impossibility—a goal for profound self-actualization and an ever-present, anxiety-inducing productivity incantation of contempory.
More information about the artist can be found on his website.
Watch the Artist Talk here and the Panel Discussion on Creativity and Augmented Reality here.
Annual Juried Student Exhibition
March 27-April 5, 2022
Join us in this celebration and showcase of student art at Drake! The 51st Annual Juried Student Exhibition was juried by Mitchell Squire, multidisciplinary artist, curator and educator. The selected works are on display in the Anderson Gallery.
50th Annual Juried Student Exhibition
It's our 50th year of hosting a student exhibition, and there is a lot to celebrate! Because a lot of students are learning remotely this year, we don't have physical works to showcase. We are adapting and hosting a virtual exhibition through Art Spaces that will allow you to move around a virtual gallery setting to experience the works. We will also host a digital, flippable catalog that will feature works by the students and highlight award winners.
This year, 52 Drake students submitted 150 works. Our juror, Nikki Renee Anderson, selected 67 works by 35 Drake students to be included in the exhibition. Nikki Renee Anderson, a Drake Alum and Chicago-based artist and educator, had a tough job and seriously considered all the entries. She said, "The work in this show represents a collection of ideas that have impact and resonance within the context of Drake and the larger society." We can't wait for you to see it!
At 2pm on Sunday, March 7, 2021, we live-streamed the virtual opening. President Martin provided some opening remarks. We will also had the opportunity to hear from our juror, Nikki, and Provost Mattison and Dean Gerhard presented over $1500 in awards generously donated by family and friends of Thad Archie. Click on the button below to watch as we unveiled our virtual exhibition and announced student award winners.
---
2019-2020 Season
Women's Rights Are Human Rights: International Posters on Gender-Based Inequality, Violence & Discrimination
On exhibit at the Anderson Gallery at Drake University from September 5 – October 18, 2019.
Organized and curated by Elizabeth Resnick, Professor Emerita of Graphic Design, at the Massachusetts College of Art and Design in Boston. Co-sponsored by Drake's Department of Art and Design and the Women's and Gender Studies program.
Women's Rights Are Human Rights: International Posters on Gender-based Inequality, Violence and Discrimination features posters created by both men and women to celebrate and acknowledge the vital role that all citizens should play in protecting and promoting human rights while challenging gender inequality and stereotypes, advancing sexual and reproductive rights, and protecting women and girls against brutality. These posters promote women's empowerment and participation in society while challenging religious and cultural norms and patriarchal attitudes that subordinate, stigmatize or restrict women from achieving their fullest potential. In their collective visual voice, these posters are designed to jolt the viewer's sense of collective responsibility to challenge prevailing attitudes toward gender inequality and discrimination, while provoking both a healthy discomfort and an empathetic response in the viewers.
All are welcome to attend related programming which has been coordinated by Dr. Melisa Klimaszewski, Professor of English and Chair of the Women's and Gender Studies Program. This series features faculty from a range of disciplines who will share reaction to the exhibition and facilitate discussion. All events are free and open to the public.
Tuesday, September 24, 2019 from 4:00-5:00pm = Dr. Jill Allen, Psychology
Thursday, October 3, 2019 from 4:00-5:00pm = Dr. Maura Lyons, Art History
Monday, October 7, 2019 from 3:30-4:30pm = Dr. Maryann Huey, Mathematics
Thursday, October 10, 2019 from 5:00pm-6:15pm = Dr. Debra DeLaet and her class on Human Rights and World Politics.
Wednesday, October 16, 2019 from 5:00pm-6:15pm = Dr. Debra DeLaet and her class on Gender and War.
Visual Disobedience: Iowa Artists Dissent, Propose Actualize!
On exhibit at the Anderson Gallery at Drake University from November 7, 2019 – February 16, 2020

Organized and curated by Lenore Metrick-Chen, Associate Professor of Art History and Visual Culture and sponsored by Drake's Department of Art and Design.
The artists in Visual DisObedience respond to the current state of affairs in our culture. Their artworks are a form of concentrated awareness. The saying that "visual artists make the invisible visible" proves true in this exhibition: the artists allow us to see relationships between mandates handed down by our governing system and the results on human beings. Artworks included in the exhibitraise questions and propose new ideas, and at times they create desirable alternatives to present circumstances.
Issues about immigration, race, gender, capitalism, consumerism, militarization, systemic inequality, and artistic freedom are addressed by these Iowa artists: Miriam Alarcon Avila, Paul Brenin, Combat Paper: Drew Cameron & Zen Cohen, Phillip Chen, Tom Christison, David Dunlap, Mira Engler, John Fender, Donté K. Hayes, Serena Illuminati, Edward V. Kelley, Emily Newman, M. Ryan Noble, Mitchell Squire, Rob Stephens, and Taylor Yocom.
Special Event on Friday, February 14, 2020: Artist Talk with Donté K. Hayes, Phillip Chen and David Dunlap and moderated by Lenore Metrick-Chen.
Gallery Hours: January 7 – January 26, 2020: Open Noon-4pm Tuesday – Friday and by appointment on weekends and evenings. January 27 – February 14, 2020: Open Tuesday-Sunday 12:00-4:00pm and until 8:00pm on Thursdays. Closed Mondays and during university holidays. Also open by appointment by contacting andersongallery@drake.edu.
49th Annual Juried Student Exhibition
On exhibit at the Anderson Gallery at Drake University from March 8 – April 12, 2020

Juried by 2019 Iowa Artist Fellow, Rachel Merrill, and sponsored by Drake's Department of Art and Design. Reception held on Sunday, March 8 from 1-3pm with awards announced at 2pm.
In Spring 2020, 37 Drake students submitted 95 works for review. After careful consideration, Rachel selected 43 pieces for exhibition and gave 10 works merit awards. Students included in this exhibition include: Kara Andreski, Samantha Barnes, Caroline Bushman, Hannah Cohen, Carissa Dannen, Nick Ellis, Amy Flieder, Caylee Gallagher, Sarah Ghaussy, Marissa Hernandez, Kendall Hunt, Madison Kelly, Alison Kuttler, Chloe Laizure, Courtney McCuddin, Ingrid McNeely, Ahn Nguyen, Bryan Ortiz, Carlye Patterson, Steve Peralta Cornejo, Molly Ruder, Kate Segler, Amelia Sims, Morgan Stuedemann, Liza Vinyon, Madison Willey and Anna Zimney.
The Nature of Things: BFA Exhibition of Caroline Bushman, Jordan DeFelice, Melissa McElin, Madison Frey and Lasha Stewart
Virtual from April 22 – May 31, 2020
2018-2019 Season
Richard Black Retrospective, Visual Worlds: "Nothing by Chance"
September 7th to October 12th, 2018
See images on our Flickr page here.
Our Town: Reclaiming the Narrative
On exhibit at the Anderson Gallery from November 9, 2018 – February 20, 2019.
Curated by Lenore Metrick-Chen, Professor of Art and Cultural History and students in Professor Metrick-Chen's "Black Americans and Photography" course.
Our Town: Reclaiming the Narrative centers on the idea of individual agency and how it can lead to social change. Agency pertains to our ability to choose our actions—or non-actions. It is the foundation for all freedom. The exhibition celebrates the diverse works of people in Des Moines's Black communities whose individual choices and agency has led them to civic engagement and social change.
Our Town can only offer a sampling of these acts of agency and everyday bravery in Des Moines. The exhibition features short video interviews of Dwana Bradley, whose initiative started the Des Moines magazine Urban Experience, Laural Clinton, advocate against racial profiling, Elaine Estes, former head of the Des Moines Public Library, who, as a Drake student at the age of 16, desegregated the women's dorm; advocate and Drake alumna, Ayinde Ashford, third year student at Drake Law, Maleigha Williams and Bailey Mosely, senior students at Drake University and members of the Coalition of the Black Students. In addition, this exhibition will examine the work of Joeanne Cheatom, Katherine Bryson, both activists from the 1960s.
In tandem with the celebration of the 50-year history of breakfast clubs for children in Des Moines, initiated by the Black Panther's Des Moines Chapter and continued by CFUM, the exhibition will feature a timeline examining the history of breakfast clubs and their impact in the community. The timeline will feature comments by present and former participants in the breakfast club, including commentary by Ako Abdul-Samad, Iowa State Representative since 2001, who was the Lieutenant of the Des Moines chapter.
The exhibition also houses a smaller exhibition which contains eight pairs of artworks. These pairings images address the reclamation of one's agency, often turning images emblematic of oppression on their head.
48th Annual Juried Student Exhibition
Juried by Jared Ledesma, Curator at the Des Moines Art Center.
March 10 – April 7, 2019
Vehemence: A Virtual BFA Exhibition
Virtually on exhibit at the Anderson Gallery at Drake University from May 8 – May 14, 2019

Seven seniors in the Department of Art and Design have works and statements available for view. Their BFA Exhibition is a culmination of their art studies in the Department of Art and Design at Drake University. See new works by Marissa Hernandez, Ingrid McNeely, Carlye Patterson, Morgan Stuedemann, Ashley Wildman, Sarah Ghaussy and Lindsey Andrea.
2017 – 2018 Season
The 47th Annual Juried Student Exhibition
Paper is Part of the Picture: Contemporary Paper and Book Arts Curated by Sarah McCoy
Mies|Weese at Drake: Where we Live and Work Curated by Maura Lyons
APPARATUS Curated by Lenore Metrick-Chen
2016 – 2017 Season
BFA Exhibition: WIP Featuring work by Justin Atterberg, Paul Brenin, Grace Lim, Bryan Nance, Jessica Podesmki April 28 – May 12
46th Annual Juried Student Exhibition
A Library for Babel, Buzz Spector
Beyond Patterns: Activism and Identity in Quilts Featuring work by Thomas Knauer
September 2 – September 30, 2016
2015 – 2016 Season
BFA II: Ipseity
Featuring work by Jenna Boures, Brett Budzinski and Pamela Mulhern
---
BFA I: Reflective Distinction
Featuring work by Betsy Hart, Rachael Kreski and Ryan Topete
April 8 – April 22, 2016
---
45th Annual Juried Student Art Exhibition
Juried by Matthew Harris, Iowa Arts Council
February 28 – March 25, 2016
---
Are We Global Yet? The Art and Politics of Public Space (including the virtual)
Curated by Lenore Metrick-Chen
November 13, 2015- February 23, 2016
---
Ideas at War: American Propaganda Posters from World War II
Curated by John Fender
September 11 – October 23, 2015
2014-2015 Season
BFA II: SEEK
Featuring work by Emma Croskrey, Maria Hanson, Katie Hanson, Lexi Ruskell and Claire Sedovic
May 1-15, 2015
---
BFA I: Anterospective
Featuring work by Riley Brady, Evelyn Tomer, Grace Carroll and Tori Carter
April 10-24, 2015
---
44th Annual Juried Student Art Exhibition Juried by Renee Meyer Ernst, assistant professor of art at St. Ambrose University
March 8 – April 2, 2015
---
Hybrid Expressionism: Explorations with Thomas Prinz A collaborative student exhibition held in conjunction with a workshop by Thomas Prinz
February 8 – February 20, 2015
Everyday Abstraction:
contemporary abstract painting
November 7, 2014 – Jan. 23, 2015
Catalog, with essay by Benjamin Gardner
whatever returns from oblivion (for Louise Glück)
Charles Matson Lume
September 5 – October 24, 2014
Catalog, with essay by Glenn Gordon
2013-2014 Season
43rd Annual Juried Student Art Exhibition Juried by Dr. Lesley Wright, Director, Faulconer Gallery at Grinnell College
March 9, 2014- April 4, 2014
---
The Great Make a two-week pop-up student exhibition
Feb. 7, 2014 – Feb. 21, 2014
---
Draw Your Weapons: Civil War Cartoons from Harper's Weekly
Curated by Maura Lyons and students from the Curatorial Seminar
Nov. 7, 2013 – Jan. 24, 2014
Visit the exhibition website here, includes catalog essays by Maura Lyons and curatorial seminar students
---
The Material Aspect:
50 Years of Popular Music Packaging
Curated by John Fender, Professor of Art and Design, Drake University
Friday, Sept. 6 – Friday, Oct. 18, 2013
Catalog essay by John Fender, catalogs available free upon request
2012-2013 Season
42nd Annual Juried Student Art Exhibition
Juried by Gilbert Vicario
March 10- April 5, 2013
Catalog
---
Jennifer Angus: Magpie Tendencies
Jan. 18 – Feb. 22, 2013
Catalog, with essays by Maura Lyons and Angela Battle
Artist Talk
---
Projecting Identity
Curated by Dr. Lenore Metrick-Chen and the Curating Seminar 2012
Friday, Nov. 9 – Friday, Dec. 14, 2012
Catalog, with essays by students from the curatorial seminar
---
my eyes are not shut: Photographs by Sandra Louise Dyas
September 7 – October 12, 2012
Catalog, with essay by Chris Offutt
2011-2012
Season
Immaterial Material: Work by Jim Shrosbree and David Hamlow
Aug. 26 – Sept 23, 2011
Catalog, with essay by Lenore Metrick-Chen
---
365: AIGA Annual Design Exhibition 31 Coordinated in conjunction with AIGA Iowa Chapter
Sept. 30 – Oct. 30, 2011
Catalog
---
William Kentridge: Collaborations with Randy Hemminghaus, Master Printer
Nov. 11 – Dec. 16, 2011
Catalog, with essay by Lenore Metrick-Chen
Virtual Tour
---
Ape-Rope-Pray-8!
Curated by Dr. Lenore Metrick-Chen
Jan 27 – Feb. 26, 2012
Catalog, OCCUPY footage
---
41st Annual Juried Student Art Exhibition Juried by Laurel Farrin, prof. of painting and drawing, University of Iowa
March 4 – March 30, 2012
---
BFA Exhibition: Verge
Work by Kjersten Lutz, Megan Pierce-Cramer, Jill Jaworski and Padraic O'Connell
---
BFA Exhibition: Working Room
Work by Tatiana Klusak, Haley Tatom, Stephanie Spitz, Nora Kreml and Ainsley Buh
2010-2011 Season
A Fork in the Road: The Time and the Place for Local Foods
Work by Hilary Williams
Aug. 27 – Sept. 26, 2010
---
The Mallea Project
Oct. 8 – Nov. 7, 2010
---
Imaging Others: Cultural Intersections in the Colonial Era Curated by Dr. Lenore Metrick-Chen
Nov 19 – Dec. 17, 2010
Catalog, with essay by Lenore Metrick-Chen and students of the curatorial seminar
---
Middle States
Work by Michael Wille, David Linneweh, Matt Pulford, Amanda Smith, Gregory Euclide and Kris Holmgren
Curated by Benjamin Gardner
Jan. 28 – Feb. 27, 2011
Catalog, with essay by Benjamin Gardner
---
40th Annual Juried Student Art Exhibition
Juried by Jonathan Muecke
March 6 – April 3, 2011
---
BFA Exhibition: Resonance
---
BFA Exhibition: Connection
2009-2010 Season
The Book in Time and Place
A Selection of Artists' Books from the University of Iowa Libraries Special Collections and Drake University's Cowles Library
Curated by Sarah McCoy
Sept. 11 – Oct. 9, 2009
---
To Know the Land: Scott Robert Hudson
Jan 29 – Feb. 26, 2010
Catalog, with conversion between Scott Robert Hudson and Amahia Mallea
---
39th Annual Juried Student Art Exhibition Juried by Jill Featherstone, Museum Education Director, Des Moines Art Center
March 7 – March 28, 2010
---
BFA Exhibition
April 2 – April 16, 2010
---
BFA Exhibition
Work by Michael Carbaugh, Meredith Gallivan, Ashley Machacek and Diane Pummill
April 23 – May 7, 2010
2008-2009 Season
America Imagines Chinese: 19th century American Trade Cards and the American Imagination
Curated by Dr. Lenore Metrick-Chen
Sept. 5 – Oct. 17, 2008
---
Building A Modern Campus: Eliel and Eero Saarinen at Drake University Curated by Dr. Maura Lyons
Nov. 7 – Dec. 19, 2008
Exhibition website, with essay my Maura Lyons
---
Faculty Exhibition: Angela Battle, Bejamin Gardner, Sarah McCoy, Ignatius Widiapradja and Connie Wilson
January 23 – Feb. 20, 2009
---
38th Annual Juried Student Art Exhibition
Juried by Bill Conger, artist and curator, University Galleries at Illinois State University
March 1 – March 27, 2009
---
BFA Exhibition: Art(official)
Work by Hannah Gebhart, Monica Brandli, Veronika Leszayova, Mackenzie Skul, Lauren Schnepf and Mistique Hecksel-Read
April 3 – April 17, 2009
---
BFA Exhibition: Handful
Work by Hunter Seuntjens, Anthony Bruce Roark, Nicole Werner, Kelly Donovan and Brenner Buckner
April 26 – May 8, 2009
2007-2008 Season
Selling the War: Posters of World War I Sept 7 – Oct. 12, 2007
Catalog, with essays by Lenore Metrick-Chen and Jack Lufkin
---
Evidence: Cindy Neuschwander and Janet DeCover
Oct. 26 – November 30, 2007
---
Woven Traditions: Central and West African Textiles Jan. 25 – Feb. 22, 2008
---
37th Annual Juried Student Art Exhibition
Juried by Ab Gratama, University of Iowa
March 2 – March 28, 2008
---
BFA Exhibition
April 4 – April 18, 2008
---
BFA Exhibition
April 27 – May 9, 2008
2006-2007 Season
Yoji Matsumura: Lost and Found
Sept. 7 – October 13, 2006
---
Jeremy Drummond: Everybody Knows this is Nowhere
Nov. 10 – Dec. 13, 2006
---
Text and Subtext: Sarah McCoy and Alex Lakin
Jan. 19 – Feb. 16, 2007
---
Cuba: Women Artists in the Revolution
Curated by John Torgerson
Jan. 26 – Feb. 16, 2007
---
36th Annual Juried Student Art Exhibition
Juried by Peter Feldstein, University of Iowa
Feb. 25 – March 26, 2006
---
BFA Exhibition
March 30 – April 13, 2007
---
BFA Exhibition
April 20 – May 5, 2007